Associated Faculty:
Roddrick A. Colvin
Office: PSFA 100 | Phone: (619) 594-6224 | Email: [email protected]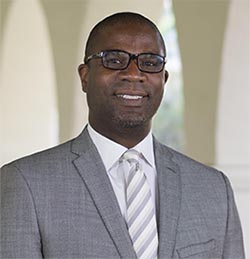 Roddrick Colvin is joining the Public Administration faculty as an associate professor. He teaches courses in public administration and criminal justice. Prior to joining SDSU, he was on the faculty of the City University of New York's John Jay College of Criminal Justice.

His current research interests include; public employment equity, police officers' shared perceptions and decision-making, and lesbian and gay civil rights.

His research has appeared in a number of scholarly journals, including the Review of Public Personnel Administration, Police Quarterly, and Women and Criminal Justice. He is also the author of the book, Gay and Lesbian Cops: Diversity and Effective Policing (Lynne Rienner Publishing, 2012).

Dr. Colvin earned undergraduate degrees in political science and philosophy at Indiana University – Bloomington, a graduate degree in public administration from Seattle University, and a doctorate degree in public administration from the University at Albany.
Download their Curriculum Vitae.