News and Events
To stay updated, please "like" our Facebook page.
AIDS and the Distribution of Crises
2 March 2020 at 2:00 pm, Digital Humanities Center, Love Library, LA-61, SDSU
Drs. Jih-Fei Cheng and Alexandra Juhasz are editors, with Nishant Shahani, of the soon-to-be released AIDS and the Distribution of Crises (Duke University Press 2020) which establishes how the AIDS pandemic is a network of varied historical, overlapping, and ongoing crises born of global capitalism and colonial, racialized, gendered, and sexual violence. Engaging with AIDS activist and artist, Judy Ornelas Sisneros, this panel will present meaningful examples from the anthology, Sisneros's ongoing work, and the archival art show, Metanoia: Transformation Through AIDS Art and Activism (at the ONE Archives Gallery in West Hollywood) with which all three panelists are involved. Drawing on their investments in activism, media, anticolonialism, feminism, and queer and trans of color critiques, the panelists will outline how the neoliberal logic of "crisis" structures how AIDS is aesthetically, institutionally, and politically reproduced and experienced.
Event co-sponsored by The Digital Humanities Initiative and SDSU Library; free and open to the public.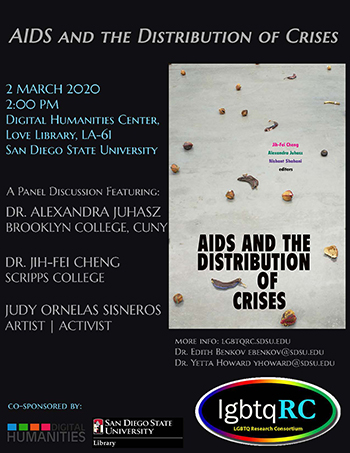 Past Events